[hana-code-insert name='NutriSystem2016′ /]
It's that time of year again – New Year resolutions are pouring in from everyone you know. It would be very surprising if you or someone you know weren't planning on losing weight, getting in shape, or striving for a healthier lifestyle in the New Year.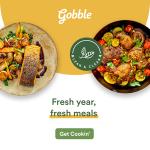 Many people struggle with keeping in shape or loosing weight. Here are a few tips that can go a long way to help shed those unwanted rolls.
Don't skip meals
If you are thinking that fasting to lose weight is a good idea, think again. Fasting and skipping meals actually leads to a decrease in weight loss, and in most cases an increase in weight gain. This is usually due to unnecessary cravings getting the best of you and binging when you should be eating healthy.
If you do not have time to cook or feel like you need to skip a meal because you are too busy, try meal replacement shakes as an alternative. Get the nutrients and protein you need to lose weight.
Start small and build up
It's hard to go from eating out every night to eating nothing but whole foods and eliminating your junk cravings. Start with one thing at a time – whether replacing fast carbs with slow carbs, or eating more whole foods instead of processed snacks and meats.
The same can be said with exercise – don't think you will commit to going to the gym every day if you haven't seen the inside of a gym in over 6 months. Baby steps are the way to lose weight. Stay focused and conquer one thing at a time.
Change the way you snack
Instead of snacking on chips or candy, try replacing your usual snack time with an actual meal. Make a very small meal consisting of a good balance of healthy food and eat that instead of snacking. You'll notice that you will soon lose your cravings for junk food all together.
Related articles
Quick tips to help you feel healthier and happier
by
Steve